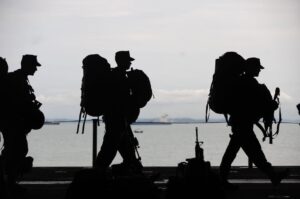 It's an unfortunate fact, but divorce has undoubtedly become a part of American life. With a national divorce rate of 7.6, the legal proceeding is likely to affect many families — including servicemen and women.
Unfortunately, a military divorce is more complicated than a typical civilian one. So, exactly how does the process work and how are things settled. To help answer this question, we've organized this article. That way you know the best course of action for your military divorce.
How Does Military Divorce Process Differ From Civilian Divorce?
Military divorce differs from civilian divorce in some of the challenges involved in dividing up the benefits and assets that came with the marriage. We'll dive briefly into how these things are settled in the next section. Since at least one person involved in the marriage is in the military, then jurisdiction is also a factor.
Many military families might not know what state or country to file for divorce if their spouse is abroad. Assuming, the family has been there for six months, then the state of residence is usually the best option. However, different states have different laws in place when it comes to military divorce.
As such, you should always consult a family lawyer before proceeding. There are also laws in play that require a member of the military to be aware of the divorce proceedings.
For example, the laws like the Federal Service Members Civil Relief Act of 2003 require the individual seeking a divorce to state whether or not their spouse is in the military. It does this to prevent someone from taking advantage of the fact that their spouse is stationed somewhere.
How Are Things Settled?
Now that we know how the military divorce process differs from civilian divorce let's explore how some popular areas are settled. In this section, we'll be covering how child support, military pensions, and healthcare is settled. If you have any questions about areas that aren't covered here, then make sure to consult a lawyer.
Child Support
There is no set amount of money when it comes to determining child support in military divorces. That's due to the differing state laws. However, any amount set is by the court can only be changed by an additional court hearing. So how do you determine child support? Most states base it on the total entitlements of the service member.
In addition to base pay, this also includes any allowances housing, subsistence, and bonus pay. It's important to help the state courts understand the various aspects of your military salary. Most of the time your direct payment for child support will come directly out of your wage. So, once you receive a wage assignment, submit it immediately to the military pay center in your branch of the military.
Military Pensions
Military pensions are one of the more complicated aspects of a military divorce. Many people think they need to be married for ten years to be entitled to the military pensions of a divorced spouse. However, this only applies to a pension when it comes to property division. Ultimately, the divorce courts will decide what share of the pension the non-military spouse is entitled to.
Determining military pensions requires submitting a lot of paperwork to the Defense Finance and Accounting Service. As such, you should hire a lawyer to help you organize everything you need to gather. Ideally, you want to complete this early on in the divorce process. That way, the Defense Finance and Accounting Service can catch any potential problems as soon as possible.
Healthcare
There are two healthcare options for non-military spouses: TRICARE and Continued Health Care Benefit Program. To apply for TRICARE, you must have been married to your spouse for twenty years of active military service. If you're approaching twenty years, then you might want to hold off on finalizing the divorce.
If the spouse has additional insurance coverage, then TRICARE will act as a secondary option. However, keep in mind that the non-military spouse's lifetime coverage with TRICARE will end if they get married to someone else. If you don't qualify for TRICARE, then you can purchase healthcare insurance through the Continued Health Care Benefit Program.
In most cases, this insurance lasts up to three years. However, keep in mind that many spouses can continue using it indefinitely if they meet certain conditions. You can learn more about it through this resource.
What Type of Lawyer Should You Go With?
Every branch of the military typically will have a legal assistance lawyer. These legal professionals can give you advice, answer questions, and write letters for you. However, generally, they aren't allowed to represent you in your military divorce. Also, keep in mind that your spouse is also entitled to seek counsel with the legal assistance lawyer.
As such, your best option is to go with a civilian firm that specializes in family cases (including military divorce). If you can't afford a divorce lawyer, then look for non-military aid programs. If you have a low enough income, then you might qualify.
Need Help With Your Military Divorce? Contact the Blake and Detchemendy Law Firm
We hope this article helped you learn more about how things are settled during a military divorce. As you can see, the process can get complicated quickly. As such, we recommend finding a family lawyer that can explain it to you in further detail. At the end of the day, they should make you feel comfortable and cared for.
So how do you find the right law team for you? If you live in the Georgia area, then look no further than the Blake and Detchemendy Law Firm. We offer a team with extensive experience in all types of divorce proceedings.
This gives us both the experience, and the empathy, to help you get through this difficult time. If you're ready to begin the military divorce process, then get in touch with us today.