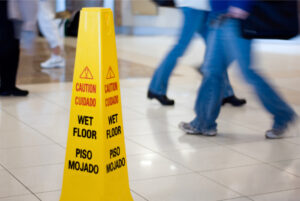 Are you the victim of a slip and fall case? Are you afraid insurance money won't be enough to cover damages? Do you ever wonder "Do I need a personal injury lawyer?"
Slips and falls can occur during rain or snow, on a stepladder, or when wet floors or poor lighting are present. They can result in strains, breaks, and fractures.
You may be wondering if hiring a personal injury lawyer is in your best interests right now.
Here's when you should be looking into hiring one.
1. When Property Owners or Tenants Had Knowledge of a Dangerous Condition
Property owners are responsible for regularly inspecting their property and cleaning up any hazardous conditions. These could include recently waxed or mop floors or uneven surfaces without warning signs. Loose floorboards, potholes in parking lots, or unsalted ice are all common conditions for slips and falls.
Environmental conditions could also be the cause of accidents. These include trash on the floor, poor lighting or lighting that's too bright, and cords that run across walkways.
Common problems also arise on ladders and stairs. Handrails may not be present and ladders could be unsecured.
In order to have a case, you'll need to be able to prove that the dangerous condition was not inspected and managed within a proper amount of time. This is compounded if there were previous complaints about the condition and the manager or property owner did nothing to mitigate it.
2. When You're Insurance Settlement Isn't Adequate
Many property owners have general liability insurance, which covers them in case a bodily injury occurs. You may get a settlement, but it may not be enough to cover all of your accident-related expenses.
Besides hospital bills, you may be paying for follow-up visits and physical therapy. You'll also want to think about the time you've missed on the job and the wages you've had to go without because you're recovering.
If your insurance settlement pales in comparison to your actual losses due to someone else's negligence, it may be time to contact a personal injury lawyer.
3. When Your Injuries Are Severe
If the result of your fall is a few scrapes and bruises, it probably isn't worth your time or money to hire a professional. If, however, you've sustained more serious injuries, you may require extra compensation.
Broken legs can keep you immobile and out of work for months. Spinal injuries can cause pain and limited mobility. Neck injuries are painful and often require surgery.
Traumatic Brain Injuries (TMIs) can result from minor problems like bumps, bruises, and concussions. They can have serious consequences. Skull fractures and hematomas can cause seizures and loss of bodily control.
If you need treatment other than a quick trip to the doctor for a brace or stitch, you may need to contact a professional who can get you the compensation you need. It's the only way to ensure that you can get regular medical treatment so you can get back to some semblance of normalcy.
4. When There's a Dispute As to Who's at Fault
A property owner's insurance company could try to deny their liability by casting doubt on your claims. They could say that you were distracted at the time of your fall or weren't using proper caution.
The right personal injury attorney won't allow property owners or insurance companies to get away with avoiding blame. When you feel unheard, the right lawyer can help defend your side of the case.
5. When You Have Proof
When you've been the victim of a hazardous situation, it helps to have physical evidence of the fall that's occurred. While you may be a bit confused at the time, it helps to take pictures of the site where the accident occurred or have someone take them for you.
You can also get the names of anyone who saw the accident occur so they can act as witnesses of your case. You should be sure to report the accident right away and see a doctor who can give a written medical evaluation of your case.
A slip and fall case can be somewhat trying and time-consuming. You can make it more effective by providing the right documentation of what occurred.
The Right Personal Injury Attorney
You'll want to do a little research before you find the personal injury attorney you'll want to work with. Make sure to speak with former clients and references before you hire someone. You can also read online reviews to get an idea of the type of experience you'll have.
Many attorneys offer free consultations where you can get an idea of their experience in litigating cases like yours. Don't be afraid to ask questions.
How much of their caseload is dedicated to personal injury cases? How many of those are slip and fall accidents? Can they give an example of a case similar to yours that they won?
You'll also want to ask your attorney what they charge. Many personal injury attorneys work "on contingency," meaning they won't ask for payment besides a percentage of your settlement or jury award.
Make sure you know how and what your attorney will charge before you hire them. Their fee should be reasonable for your case and geographical area.
Do I Need a Personal Injury Lawyer?
The answer to "do I need a personal injury lawyer" will depend upon your situation. If you aren't getting a fair settlement or were the victim of serious negligence, it may be time to get professional help with your case. The right attorney can help you get back on your feet in no time!
Don't stop getting smart about your accident now. For quality personal injury lawyers, contact us today.