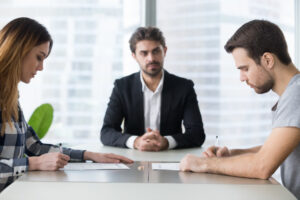 Getting a divorce can seem like a daunting prospect for many, which is why it's so important to choose the right attorney. Did you know over 750,000 couples get divorced in the US every year? Finding the best divorce lawyer in Georgia will ensure you get the best financial outcome, custody outcome, and more.
Finding the right lawyer for you could take some time and research. Before you make a decision, it's a good idea to have some questions ready to ask. Here are some questions to keep in mind.
1. How Much Experience Do You Have?
Your divorce lawyer should have extensive experience in working on divorce cases. You'll need a lawyer who has seen everything before and knows exactly how to handle each case. The goal of your lawyer should be to get you long-term and financial securities so you can walk away without any nasty surprises.
You should be able to depend on your lawyer to give you good advice, whatever the circumstances are.
2. Have You Handled Financial Settlements?
Many divorces have financial aspects. Whether you're splitting your assets, dividing a jointly owned business, or settling child support payments, your lawyer needs to have experience of it all. The last thing you want to find is that you're paying more than you should be to support your ex-partner after a divorce.
3. Do You Reach Out-Of-Court Settlements?
When divorce proceedings have to go to court, they often drag on longer and become more expensive. The longer a divorce takes, the more trauma it can cause for all involved, especially young children. Find out if your divorce lawyer in Georgia is willing to reach out-of-court settlements.
Someone with a good track record of out-of-court settlements is likely to be able to advise you in a manner that gets the process over and done as quickly as possible.
4. Do You Offer Collaborative Divorce?
A collaborative divorce is an option that allows both ex-partners to work collaboratively. Rather than becoming adversaries, they work together to ensure they can both get what they want from the future and any children remain secure in their lives and relationships. This isn't suitable for every divorce but if you are on friendly terms with your ex, it's worth asking your lawyer if collaborative divorce is an option.
5. Do You Know Local Judges?
If your divorce does go to court, it can be handy for your lawyer to know local judges. If your lawyer knows judges in the Georgia area, it will be easier to predict how a certain judge could rule in the proceedings. Knowing how a judge tends to rule on divorce cases, you can work with your lawyer to formulate a case that will work well for you.
6. Will You Be Passing My Case On?
When you set up an initial meeting with your lawyer, it's worth asking if he will be representing you or passing your case onto a colleague. Many people get to know their lawyers and hire the firm based on that particular lawyer's style or personality. It's only afterward that they find out their case has been passed on to a junior lawyer who may not have the same understanding of the circumstances.
Be sure you know exactly who will be representing you during every stage of your divorce before you hire a legal company to take on your case.
7. When Can I Contact You?
There will be many times throughout your divorce when you'll need a question answered or some advice on how to proceed. However, that won't be possible if your lawyer is never available. Before hiring someone, ask them how and when it would be most convenient to contact them.
You should be given several options of contact, including phone and email. A professional and efficient lawyer will always aim to contact you within 48 hours.
8. What is Your Caseload Like?
There should be a fine balance between too few cases and too many. If your lawyer has too many cases, your case may not get the attention it deserves. However, if your lawyer doesn't have many clients, that could be a red flag. Your lawyer should be able to fulfill the commitments he makes to you without any distraction.
9. What Do You Charge?
It's important to ask this question before hiring an attorney. When you have your initial consultation, ask your attorney how much his retainer is and how much he charges by the hour. It's also worth asking if you will be charged anything extra if your attorney enlists the help of other colleagues.
Most lawyers will offer this information right away to be sure their clients can reasonably afford their services. However, if a lawyer seems to avoid the subject of cost, it could mean there are hidden costs within your contract.
Hire a Family Lawyer
Looking for a family lawyer in Georgia is the best place to start when you're trying to find a divorce lawyer that can get the best results. At Blake and Detchemendy Law Firm, we understand the implications of divorce in families and we're here to help advise you every step of the way. Even though you're probably mentally prepared to separating from your ex, you may not have considered all the legal implications.
Even in the most amicable of ex-partners, divorce can cause tension and arguments. We aim to make the process as easy on you as possible. Take a look at the services we offer.
Finding the Best Divorce Lawyer in Georgia
It may take some time and effort to find the best divorce lawyer in Georgia but it's worth it. At Augusta Divorce Lawyers, we have a team of lawyers who are highly experienced and ready to take on your case. Why not contact us for more information on how to get started?